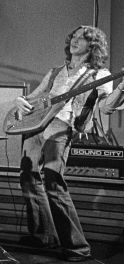 It is with great sadness that we have to announce
the passing of John Cartwright, bass player and
one of the principle songwriters of The Jess Roden
Band who died of a heart-attack yesterday,
November 9 2016.
A multi-instrumentalist John was a stalwart of the Southampton scene for many years. He was originally in a group called The Life "playing all manner of Tamla stuff, a harmony group" before being co-opted into The Globe Show alongside Bruce Roberts (guitar), Ronnie Taylor (sax) and Chris Gower (trombone). "I found that guitar, bass, piano and drums were well within my reach, like when we formed The Globe Show, they had a bass player but no drummer."
Ronnie Taylor – "Maggs (John) said to me when I last saw him,
'We were dead lucky then, what experiences we had; 20… 21 years old, working with Irma Franklin at the Royal Albert Hall… Wilson Pickett… Patti Labelle doing the only British tour she ever did… Ben E King… Jimmy Ruffin… Joe Tex…' I mean, this was one band – The Globe Show – and we backed 'em all."
Then, in 1971, The Globe Show reinvented themselves as Iguana. Pete Hunt joined on drums, while John switched to bass. After one moderately success album for Polydor, Jess Roden came calling – his first solo album for Island had just been released and he was looking for a band with which to work – after one rehearsal, the Jess Roden Band was born.
With a stellar reputation on stage, the JRB's live success never translated into record sales and, after releasing three albums, the group disbanded in 1977.
John contributed to Jess's first solo US recording and, in the early 80s began recording with his partner, Jaki Whitren among which Rhythm Hymn, International Times, Miracle Style and Isis Unveiled. John also co-produced Hugh Masekela's 1989 Uptownship album and worked with Miriam Makeba among many others.
In later years, he and Jaki divided their time between their home in France and Glastonbury.