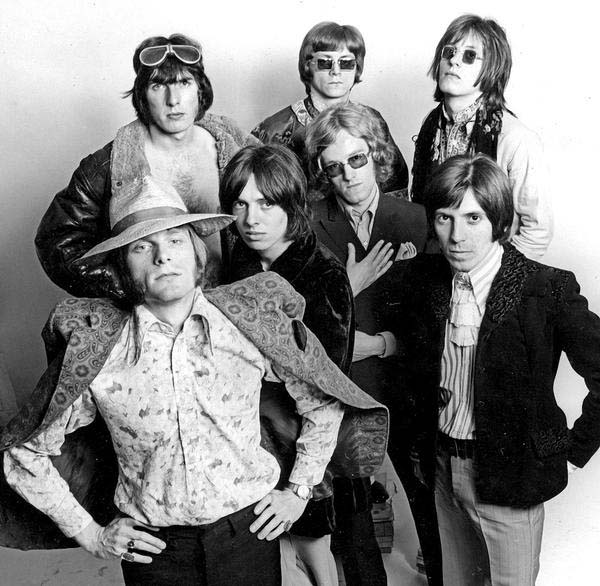 Ironically, shortly after the pressing plant strike, and its effect on their appearance on Top of the Pops, the group appeared on the (appropriately named) Innocence, Anarchy & Soul television spectacular host by Jack Good.
Two further singles (Toyland c/w Technicolour Dream in October and Story Book c/w Little Lesley) kept up the momentum; releases that backed up a hectic gigging schedule.
 The band's growing popularity saw packed-to-the-rafters residencies at London's Marquee Club as well as opened them up to the dangers inherent with over-enthusiastic crowds in smaller venues; band-member-blood was spilled after a big fight broke out one night at The Wellington Club in East Dereham, Norfolk
This was where – in the words of one eye-witness – "the local "Rockers" took exception to The 'Alan Bown!' mod panache.'
"Jess and The Alan Bown! were forced to leave the stage early, (and the situation) got completely out of hand when the door to their dressing room in the basement was smashed down while members of the band were desperately striving to protect themselves. It was a total disgrace and those of us who lived for the Alan Bown!, who until then played in Dereham regularly were shocked and ashamed. Then we parted company with Pye.

'But things were changing even then; all this new wave of music was coming in from America.

'And also… the British groups like The Beatles were starting to do things that were kind of better than bands like ours; we were still mimicking the Americans yet things coming across from the States were moving in a different direction – pop music was growing up.

'And, I suppose, it was all about to take off with the so-called Summer Of Love, hippyness and mind expanding drugs and all those sort of things."
The label switch was to Deram.
"We weren't on Decca, that was for the likes of Frank Ifield and Frankie Vaughan – obviously the label heads weren't getting shot of all those kind of artists as it was still big business, the central league entertainers.

'So us and The Moody Blues were put on Deram and we recorded the first album proper.

'I suppose that's where we also started writing the little 'story-like songs. But, of course, I hand a hand in them as well… but, y'know, I'd bring forth these other things which were from the American bands like The Young Rascals and, of course, All Along The Watchtower ­– 'cos I'd just heard John Wesley Harding.

'The majority of the tracks were one take; it was pretty much live. With one tune, we'd done it.. a really good take… and, then Stan makes a mistake… right near the end and, I've gone la-de-dah-de-dah as if its all over and we've gotta do another take but, in fact, what they said was, 'nah we'll just fade it off.'

'It was almost like… ohhhh nooooooo… its broken down in the last second, we'll have to do another take because that's how live it was.

'Yeah, we used to kind-of overdub vocals but that was pretty much only to double-track. It wasn't really to replace because the art of punching in and punching out hadn't really developed that much by then. We could edit and things like that – but… you know, if you didn't get it right, basically, you had to set the tape back to zero and do it again."
The album was produced by Mike Hurst – a former member of The Springfields. When that group fell apart in 1963, he formed a group of his own with Albert Lee, Jimmy Page and Tony Ashton but, despite the stellar talent involved, they too found little success.
Two years later he began work with Mickie Most and Andrew Loog Oldham and within a few months had produced Cat Stevens' first hit, I Love My Dog. He quickly followed this with hits for Marc Bolan, The Move, PP Arnold and Spencer Davis Group – becoming one of the go-to producers of the era.
'At the very early gigs there was no sound-check or any of that malarkey. But, between Outward Bown and the next album we did get to have roadies.

'Bob (Pridden – originally Alan Bown's driver-cum-roadie) had gone on to The Who by then but we had two guys, sometimes three – one used to drive the van because we, by this time, were travelling in a car – a great big American seven-seater Galaxy with three rows of seats.

'We had a WEM PA by then too, monitors were still really not that well developed but the entire set-up was a lot more sophisticated than it was when I first started with them."
The group continued their journeying to the four corners of the British Isles – playing the likes of Marc Altman's Ballroom in Leeds, with Spooky Tooth and Elmer Gantry's Velvet Opera and at the Assembly Rooms in York, where Peter Stringfellow used to run the between-act disco.
The band were also in the studio – two singles were released during 1969, Still As Stone c/w Wrong Idea and Gypsy Girl c/w All I Can – and tracks were laid down for their second album.
However, on completion of the album sessions, Jess announced he was leaving.
The Mojo Club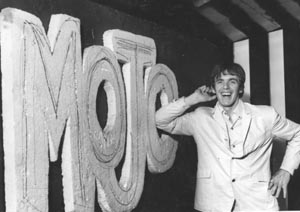 Peter Stringfellow and his brother owned and ran The Mojo Club in Sheffield which was a major venue on the scene at that time;
'We played there quite a few times and some great DJ's played there too."
The Mojo Club was located at Dey's Ballroom, in Pitsmoor, but Stringfellow was asked by the owner to cough up £5,000.
"It was like asking for £5m in my eyes, and he couldn't believe I didn't have that kind of money … so in the end he rented it to me for a phenomenal £30 a week."
Paul Norton – a young Chesterfield-born artist – was cajoled into painting the walls black and put exotic murals on the walls and the legend of the Mojo club was born.
"I'd done a pencil drawing of him as a birthday present. He wanted stuff doing on the walls and I was one of the people he asked," Paul recalls. "There were a trio of art college girls, Sue Barfield, Julie Shrivastava and Alanah Hatfield plus Dave Senior and Colin Duffield – he did all the club posters."

'We were playing music which no one else had and then we were booking acts to fit the music,' says Stringfellow.

'So it started off as a Blues club, then became a R&B club, then a soul club, a pop art club and a psychedelic flower power club."

"I mixed all this music together, so in one month in 1965 you would have Wilson Pickett, The Who, the Small Faces, The Alan Bown and Geno Washington all playing."
The list of those who played the Mojo actually reads like a Who's Who of '60s music – from Jimi Hendrix to The Spencer Davis Group; from The Isley Brothers to Pink Floyd who topped the bill on Sunday, May 7th 1967; from Junior Walker & the All Stars to Steampacket (featuring Rod Stewart, Julie Driscoll, Brian Auger, Mick Fleetwood) and everyone else in between.
The Alan Bown headlined the night of New Year's Day there in 1967 as well as playing the 'Hands Off the Mojo Show' on June 23rd at Sheffield City Hall alongside The Drifters, Ronnie Jones & the Q Set, Amboy Dukes Big Band and The Pitiful when the club was threatened with closure the same year.