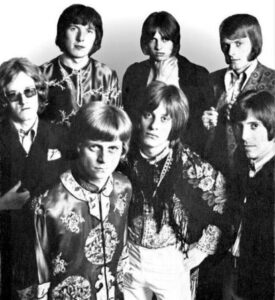 Despite the body-blow to the band, the band's management managed to concoct a bit of PR spin – and simply announced that Jess was taking a break as advised by his doctors.
Doubtless a public relations exercise in satisfying honour on both sides since that self-same announcement trumpeted the arrival of the former Mandrake Paddlesteamer vocalist Robert Palmer together with news that The Alan Bown! would be touring America the following October.
'This name' recalls Jeff Bannister, 'was an amusing misnomer. Even Robert couldn't explain where the Paddlesteamer tag came from. His band was called The Mandrakes.'
By this stage we had a manager, and while outfits were important, they weren't to me…
'I'd only been with them a couple of years or so, but had started to get a bit disillusioned.  and there was a bit of a sort of upheaval. By this time we had a manager, and while outfits were importnant, they weren't to me…'What they said was,

"This is not a four piece band, this is a seven-piece band… and, if everybody looks like they've come from a different area of the country – city, town or whatever – you'll just look like a shambles." And that's absolutely true.

'We had these suits and the reason we wore them makes major sense to me – now. Alan's was a red one, mine was a pin-striped brown, John's was yellow and Vic's was green – they were very nice tonic mohair. But, frankly, I couldn't keep a jacket on longer than one song because I'd soak it up.

'So, I didn't kinda like that – I wanted to go on in my own clothes, I had some nice Granny Takes A Trip clobber, they were hip…!

'So, there was lots of things I was rebelling against, plus, by this time Steve had left Spencer Davis and decamped to Berkshire and there was an awful lot of stuff going on down there with the Birmingham people – we'd be down there every day off, as would Trevor Burton and Ace Kefford from The Move and there'd be lots of jamming – good times.

'So, Alan B sat me down in front of the manager and, to be fair, there had been a problem as I'd had a bad throat – there was some kind of danger that I might have damaged or had some nodes on my vocal cords… actually turned out that there weren't…

'But, I was loosing my voice, maybe down to generally over-doing it so, they sort of said… "Look… please… you've got to do this, do that…" And they were probably right… but, I wasn't having it.

'I was like… hmmm, this is freedom time… lets love everyone and I really wasn't ready to be disciplined in any way at all… this wasn't the army…  So, I'm sure they didn't want me to go but they did try to correct me.

'I suppose within three or four months of that I decided to go.

'It wasn't a move in a new direction away from soul and funky kind of music; it was more of a new direction away from doing Tamla covers.

'It was still Blues and Soul for me – I couldn't get away from the Soul singers – Otis Redding was pretty much my favourite singer; his delivery, just fantastic…

'And Marvin Gaye too… you'd think… jeez, what great singers but I really liked the tenderness and naievety of people who, in those days, you'd consider couldn't really sing.

'People like Neil Young – he wouldn't have been considered a top of the tree vocalist but there was just something in his voice that was… particularly on the melancholy songs that was so… yearning, so right, that I started to view that as – another kind of soul.

'Y'see there was also this new wave of American music that was turning my head too. Bob Pridden was away with The Who and always coming home with a suitcase full of albums. He'd buy pretty much everything that was coming out – and that was the first time I'd seen gate-fold sleeves and stuff like that.

'And, in a way, that's where Music From Big Pink enters the picture.

'And, of course, then The Spooky's went on to do The Weight and there's no doubt that record shaped some of the things that Traffic were doing as well.

'In general our heads were open to so much experimentation and this juxtaposition of different musics.

'So, what I was really really getting involved in then was, besides the Blues and Soul, I loved The Byrds, Moby Grape, Love, Buffalo Springfield; it was those kind of groups that were really doing it for me, filling my head then… and so, in that respect, I was moving in to that arena.

'I just went back to Kidderminster – frankly, I didn't know what else to do.

I knew I wanted to do something different but, the only other musicians I knew were people who were all in fairly steady groups and, I really didn't want to get involved in one of those kind of here's Johnnny from this band and Ted from that group and Bill from some other band… and Jess Roden on vocals – that wasn't right for me at all.

'But, quite honestly, I had very little skill as a songwriter."
Jess Roden and Robert Palmer
As a note to this section, Jess' vocals were re-recorded by the band's newest vocal recruit – Robert Palmer and, in fact, two versions of the album were ultimately released; the British issue on Deram contains Robert's vocals while the American release featured Jess' vocals.
The Alan Bown! switched from Deram to Island in 1970, releasing Listen as their label debut, the record featuring Robert Palmer on vocals. However, Robert jumped ship as soon as the album had been completed and Gordon Neville re-recorded all of the vocal tracks.
A single (Pyramid) followed before yet another personnel change that saw Andy Brown come in on bass.
A second Island album entitled Stretching Out was released in 1971 before Jeff Bannister, Andy Brown and Tony Catchpole all quit, the latter two being replaced by Dougie Thompson and Derek Griffiths respectively.
The band essentially folded at the start of 1972 but briefly reformed with Dave Lawson (keyboards), Tony Dangerfield (bass & vocals), Frank White (guitar) and Alan Coulter (drums) for one final tour before ending their days in July '72.
Jeu De Massacre soundtrack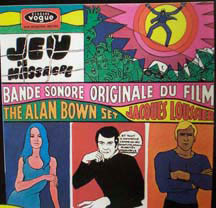 At the start of 1967, the band were commissioned by French composer and jazz pianist, Jaques Loussier to record the soundtrack to an Alain Jessua film, Jeu De Massacre (The Killing Game); a French film that tipped its hat to 'Op Art with bandes dessinées (cartoons) by Guy Peellaert.
It starred, as husband-and-wife cartoonists, Jean-Pierre Cassel and Claudia Anger and was premiered at that year's Cannes Film Festival, an event that coincided with The Alan Bown Set making their European television début in Monte Carlo.
"We all attended the premier of the film at the Festival and afterwards went to a major party at a very swanky 'discotheque'.
'The whole affair was so unreal – so far removed from the blues – and like something out of my wildest imagination.
'We stayed at an hotel that overlooked the beach and, for some reason, every time I see the movie 'Some Like It Hot', the imagery reminds me of my one and only trip to Cannes."