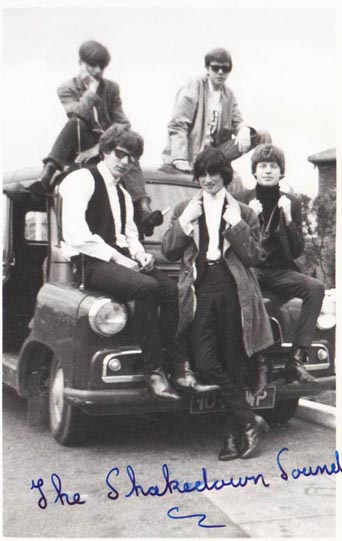 'Up the road from where I lived there was another young lad who I'd spotted playing guitar in his front room. I'd also seen him about the town. He wore sharp suits, Cuban-heel boots and there was a touch of back-combing about his hair".
Jess was now sixteen.
The birth of The Shakedown Sound can be traced back to another two local outfits – The Sunsetters and The Zodiacs.
Kevyn Gammond and Sean Jenkins were both members of the former and were asked by Colin Youngjohns (of the latter) to join The Zodiacs.
One gig later (at Brinton's Club) and Gammond and Jenkins decided that The Zodiacs were too mainstream and not a musical path down which they wanted to tread.
Leaving their previous singer (Alfie Knott) to his own devices and, together with Bill Davies, they took the name The Shakedown Sound and began playing a mix of blues tinged rock 'n' roll.
However, the embryonic Shakes were still short of a suitable singer.
'I'd given up my job as a an apprentice motor-mechanic which, funnily enough is where I met Johnny Pasternak. He had a reputation as bit of 'Johnny the Knife'…He was a Grammar school boy, very clever kid, but, his father had died when he was quite young and his Mum was into alternative medicine. She ran the health food store in town and Johnny became a bit of a rebel.

'He carried a flick-knife but he also had the most magnificent duck's arse hairdo and all that kind of stuff, winklepickers before anybody else – so that's where I first met him.

'But later on, when he became a musician and channeled his energy into playing guitar as opposed to ripping up cinema seats, I met him again then and we became friends.

'Anyhow, Kevyn gave me a copy of an album called Festival of the Blues – I remember it was on the Pye International label and featured several artists.

'In fact, thinking about it, I can remember most of the tracks like it was yesterday. There was Smokestack Lightnin' by Howlin' Wolf… Muddy Waters' Got My Mojo Working… Reconsider Baby by Lowell Fulson… Bo Diddley's Road Runner and…First Time I Met The Blues by Buddy Guy.

'Kevyn said that he thought Buddy was a fantastic singer and if I wanted to learn the song and could sing like him, I could be in the Shakedown Sounds."
In fact, Jess learned the entire record and, as with all good samplers, began to investigate the work of every artist on the album and, from them, to others playing similar music.
'I went down to see a show The Shakes were doing at The Ritz in Kings Heath near Birmingham, sang that song and… joined up. Simple as that really."
The Ritz was part of 'The Regan Circuit' – clubs owned and run by Joe and Mary 'Ma' Regan – a formidable Irishwoman who had emigrated to the Midlands where, after a stint as a teacher, she opened a series of tea shops. These led to tea-dances and then dance halls.
However, after one show in London's Soho at the notorious 2 I's Coffee Bar, Billy Davies left to be replaced by John Pasternak.
The Soho Scene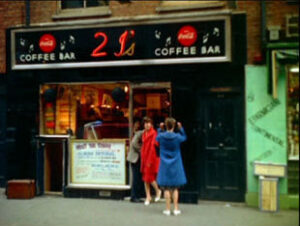 By the mid-Fifties, Soho had become the centre of London's 'Beatnik' culture; spawned through the numerous coffee bars such as Le Macarbre (which had coffin-shaped tables), The French, Freight Train, and The Moka Bar.
The 2 I's paved the way for this next generation of clubs.
Over time, these would include The Flamingo, The Whiskey A Go Go, the justifiably-famous Ronnie Scott's that opened in 1959, The 100 Club and The Scene (run by Ronan O'Rahilly who also owned the offshore pirate radio station Radio Caroline).
As much as The Scene was well known as the first Mod club, it could well be argued that the 2 I's was – very possibly – the first 'rock club' in all of Europe.
And, notorious indeed the 2 I's was; the club was situated in the basement of 59 Old Compton Street and run by a onetime Australian wrestler, Paul Lincoln (aka 'Dr Death') and Ray Hunter.
It numbered amongst its doormen a certain Peter Grant – later to find fame and a not inconsiderable fortune with Led Zeppelin wherein his managerial 'do not mess with my boys' attitude was a direct throwback to his days as the club's bouncer.
Basically an Espresso bar, the 2 I's opened its doors on April 22nd 1956 and was named after two brothers called Irani who had originally owned the café.
It featured live music in its basement with a small 18" high stage and The Vipers were the first group who secured a residency there. Indeed, it is claimed that during one of their performances that Tommy Steele was first 'talent-spotted' there.
The 2 I's reputation within the nascent London coffee-bar scene was significant – a number of other 'stars' were 'discovered' there, among which were Cliff Richard as well as the likes of Marty Wilde, Joe Brown, Eden Kane, Screaming Lord Sutch, Ritchie Blackmore,Tony Sheridan, Johnny Kidd and Jet Harris (later of The Shadows).
That long list also includes Paul Gadd (later to be known as Paul Raven before becoming Gary Glitter), Terry Dene, Wee Willie Harris, Carlo Little, Jay Chance, Mickie Most and Big Jim Sullivan. All played there regularly until the 2 I's closed its doors in 1967.