The recently published version of the 60s special magazine from the masters at MOJO features six pages on Neil Storey's book project – The Island Book of Records … "It's been a journey of discovery and its not over yet" says Storey after years of sleuthing to find the stories behind the songs and albums from this amazing label. The opening spread features one of the many Island compilations British Blue-Eyed Soul, from 1967 which features four tracks from Steve Winwood, two solo tracks and two with the Spencer Davis Group.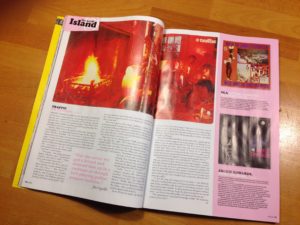 The second spread features stories and quotes about Traffic's Dear Mr Fantasy album, including one from famed engineer Phill Brown who remembers the band playing in the dark and burning incense in the studio in an effort to recreate the Cottage atmosphere and ambience. Lets not forget the smell of damp Afghan coats!
Neil Storey's quest for the complete catalogue has led him to unusual albums… including the rare album called  Ska at The Jamaican Playboy Club, featuring Millie, on the cover in Playboy Bunny uniform.
Equally rare, the 1965 album from Jackie Edwards called Come On Home is featured with comments from Island cub photographer Gered Mankowitz on how to light a nose to make a great picture. Edwards was also known for writing the song Keep on Running.
Fairport Convention, Art, Nirvana and Spooky Tooth albums are all featured on the last spread. Some interesting recollections of photo locations from Mike Kellie and Gered Mankowitz about the location of It's All About album …. All good fun at the end of the day with lashings of Vaseline on the lens. Storey leaves no stone unturned, and gets down to the meaty truth about the What We Did On Our Holidays album as Fairport's Simon Nicol finally reveals – 46 years later – who removed the dog turds.
You couldn't make this up if you wanted to, and thank God someone has the passion and the determination to preserve contemporary music history for the future.