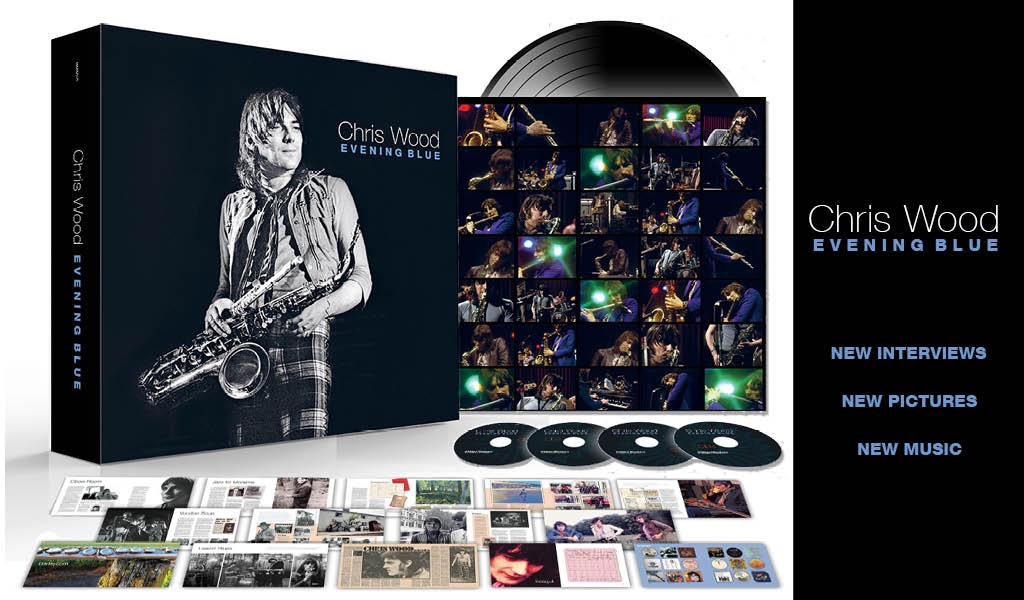 We've just had a few (over-ordered) returns land at HM HQ and these are now exclusively for sale here.
And Evening Blue is (or was)… what exactly?
It took over five years to piece together and is the first hardback book-set to chronicle and celebrate Chris Wood's life in music from co-founding Traffic via his many collaborations with the likes of John Martyn, The Wailers' Tyrone Downie, Nick Drake, Free to his own solo work.
Critically lauded around the world, Evening Blue was issued as a limited edition of 1000 copies on February 3, 2017 and curated in close collaboration with Steph Wood who administers her brother's estate.
It is (was) a lavishly illustrated 212-page hardback book which included over 420 images, the majority of which had not been seen before. 4CDs and a vinyl LP are included in the book covers
The text was abridged and edited from Dan Ropek's acclaimed biography of Chris which includes interviews with the late Paul Medcalf and Jim Capaldi as well as many of Chris's friends and musical colleagues.
We also included exclusive interviews with Steph Wood and Anna Capaldi-Gilbey; studio engineers Terry Barham and Brian Humphries; musicians Mike Kellie, Dick Cuthell, Steve Winwood, Poli Palmer, Pete Bonas, Maps (James Chapman), Gordon Jackson, Jess Roden, Bobby Whitlock, Shawn Phillips and others as well as photographers Brian Cooke, Barrie Wentzell, Gered Mankowitz, Dina Regine, Dan Cuny, David Miller, Richard Keith Wolff alongside Muscle Shoals Swampers David Hood and Charles Rose.
The 4 CDs included music drawn from Chris's entire career with his solo recordings taking centre-stage. We also featured alternate takes and mixes as well as previously unheard compositions and never-before-heard home demos and other sketches.
Naturally, there was music from Traffic as well as recordings by Gordon Jackson, John Martyn, Dave Mason, Jim Capaldi, Bobby Whitlock, Airforce, Martha Velez, Nick Drake, Shawn Phillips and others.
Evening Blue also featured Chris's previously unheard collaborative work with The Wailers' keyboard player, Tyrone Downie as well as Rebop Kwaku Baah, Remi Kabaka, The Sky, Dr John & Jeanette Jacobs. Tracks from the only known-to-survive recordings by the short-lived Mason, Capaldi, Wood & Frog line-up were also included as was a brand new 2015 collaboration – Maps with Chris Wood.
And… Chris's never-released solo LP on 180gsm vinyl. Long thought lost, the ¼" masters were discovered by chance in an outbuilding in the West of England during the late-spring of 2013.
Over half the music featured on Evening Blue had never been heard before. And, other than in three instances (where the analog reels no longer existed), all the recordings were sourced from the original 2″ and 1″ multitracks or ¼" masters and cassettes captured at 24bit/96Khz.
The whole set was re-mastered by Richard Whittaker at FX Mastering in London – the CDs at 16bit/44.1Khz and the vinyl at 24bit/48Khz.
Evening Blue is £90 (GBP) + SHIPPING
To give you an idea, UK is costing £8, we shipped to Germany and the Netherlands last week, £15 – and USA  is £30-40 depending on how rural the location is.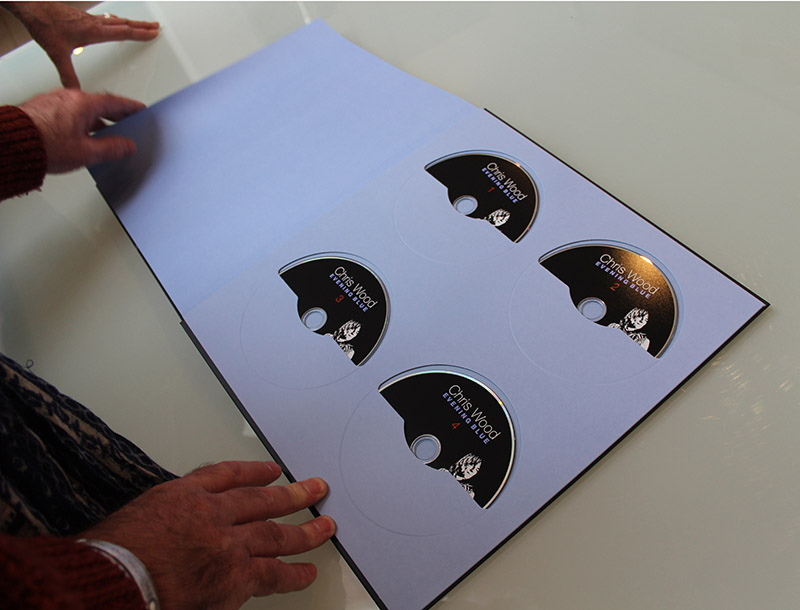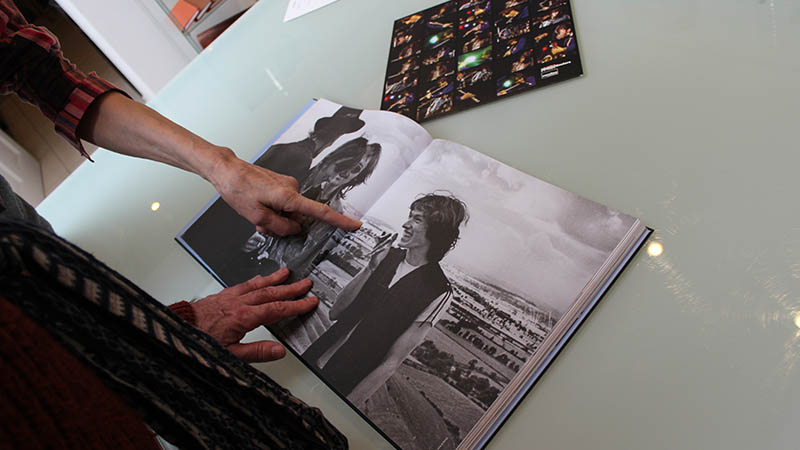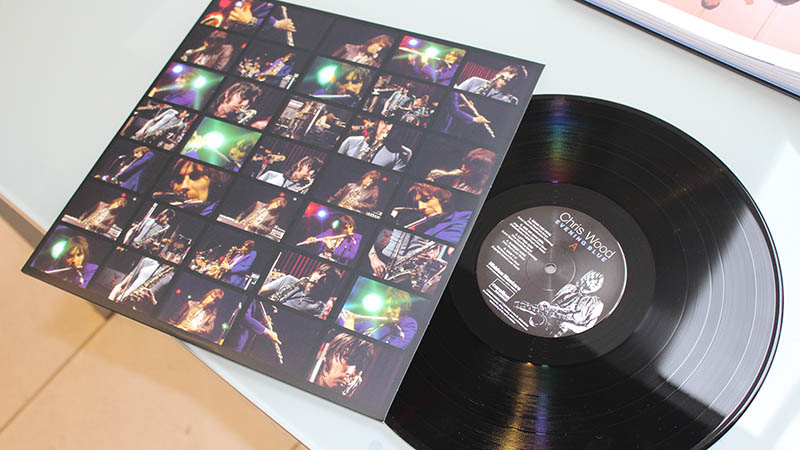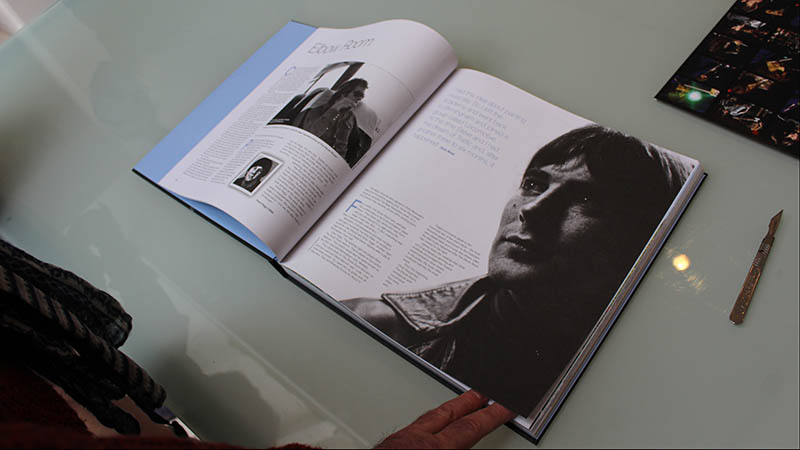 About Chris Wood:
Perhaps best known for co-founding Traffic with Steve Winwood, Jim Capaldi and Dave Mason, Chris Wood was self taught on Saxophone and Flute although he was also an accomplished keyboards player and bass guitarist too. And a fine artist as well; from Stourbridge College of Art, Chris was accepted by the Royal Academy in 1965 where he ultimately faced the choice – music or art.
Via The Steve Hadley Quartet, he moved on to other Midlands-based bands – Shades Of Blue which included pianist Christine Perfect (later McVie of Fleetwood Mac) and then Locomotive with Mike Kellie (Spooky Tooth). Knowing Steve Winwood from The Elbow Room in Birmingham as well as through his sister Steph who designed clothes for The Spencer Davis Group led, eventually, to the formation of Traffic which evolved from out of hours jam-sessions at The Elbow Room.
Traffic decamped to an isolated farmhouse (The Cottage) on the Berkshire Downs. Success came with their first single (Paper Sun) with their first album (Mr Fantasy) being issued in December 1967. The group split after releasing their second album with Winwood joining Eric Clapton in Blind Faith. Wood and Capaldi reunited with Dave Mason to form the short-lived Mason Capaldi Wood and Frog before Chris left for America where he joined Dr John and toured the US. On his return to Britain, along with Winwood, he joined the first version of Ginger Baker's Airforce, playing two gigs and releasing one album. After which Traffic – as a three piece – reformed.
Chris introduced the traditional ballad John Barleycorn to Capaldi and Winwood and it became not only the title song to Traffic's next LP but a lynchpin of their concerts for the remainder of the group's life.
Close friends with Jimi Hendrix, Wood played on his Electric Ladyland album as well as contributing to records by Free, Fat Mattress, Sky, Noel Redding, Third World, John Martyn, Gordon Jackson, Crawler, Jim Capaldi, Rebop Kwaku Baah, Bobby Whitlock and many others.
He met his wife via Hendrix (she was part of Jimi's inner circle) – Chris and Jeanette Jacobs were married in November 1972 at Kensington Registry Office in London.
Traffic folded after the release of the When The Eagle Flies LP in 1974. In the years that followed, Chris took tentative steps toward recording his own LP but, plagued by addiction and his wife's serial infidelity while progress was made, it was slow. Eventually, an album was completed and sequenced in October 1978 but, for reasons which remain unknown, Island chose not to issue it. In the mid-80s the 1/4″ masters disappeared and remained missing until 2013.
Jeanette (from whom he was now separated) died of a seizure on New Year's Day 1980 – she was 30. Chris was affected by her death as deeply as he was by Jimi's passing as well as other close friends like Paul Kossoff and his erstwhile band-mate Rebop Kwaku Baah.
Never to completely shake his dependencies, Chris Wood died in Birmingham's Queen Elizabeth Hospital on the morning of July 12, 1983. Three weeks earlier, he had turned 39.
Traffic's Far from Home LP, issued in 1994, was dedicated to Chris – the front cover shows a solitary stick-figure playing a flute.
Traffic was inducted into the Rock and Roll Hall of Fame on March 15, 2004. In Jim Capaldi's acceptance speech he said: Chris Wood was the magic man in Traffic. He was the one who came up with John Barleycorn. We sadly miss Chris. Traffic forever
Reviews Chris Wood: Evening Blue
Mojo 4****
"Evening Blue is both a wonderful tribute and a rare chance to hear this gifted, but too often forgotten, musician in the spotlight"
Shindig! 4****
"The LP is jazzy touched with elements of Latin and reggae, a spacey beautifully performed mix of serious 70s music.   The accompanying 200+ page book is gorgeous"
Prog
"Fallen Traffic wind magician gets sumptuous box set monument … beautifully measured tribute to Wood's colossal talent"
.