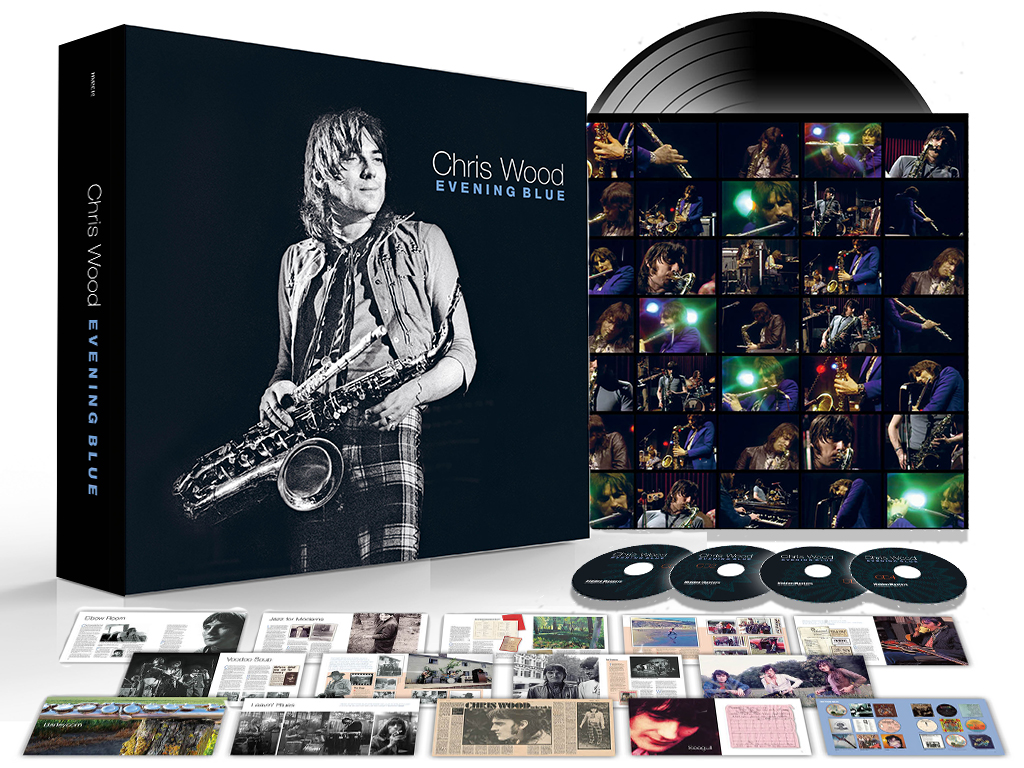 And Evening Blue is … what exactly?
The first deluxe book-set to chronicle and celebrate Chris Wood's life in music – from co-founding Traffic  to his many collaborations with John Martyn, The Wailers' Tyrone Downie, Nick Drake, Free as well as his own solo work.
It is a lavishly illustrated 212-page hardback book which included over 420 images – the majority of which had not been seen before. 4CDs and a vinyl LP are included in the book covers.
The text was abridged and edited from Dan Ropek's acclaimed biography of Chris which includes interviews with the late Paul Medcalf and Jim Capaldi – as well as many of Chris's friends and musical colleagues.
We also included exclusive interviews with Steph Wood and Anna Capaldi-Gilbey; studio engineers Terry Barham and Brian Humphries; musicians Mike Kellie, Dick Cuthell, Steve Winwood, Poli Palmer, Pete Bonas, Maps (James Chapman), Gordon Jackson, Jess Roden, Bobby Whitlock, Shawn Phillips and others as well as photographers Brian Cooke, Barrie Wentzell, Gered Mankowitz, Dina Regine, Dan Cuny, David Miller, Richard Keith Wolff alongside Muscle Shoals Swampers David Hood and Charles Rose.
The 4 CDs included music drawn from Chris's entire career with his solo recordings taking centre-stage. We also featured alternate takes and mixes as well as previously unheard compositions and never-before-heard home demos and other sketches.
Naturally, there is music from Traffic as well as recordings by Gordon Jackson, John Martyn, Dave Mason, Jim Capaldi, Bobby Whitlock, Airforce, Martha Velez, Nick Drake, Shawn Phillips and others.
Evening Blue also featured Chris's previously unheard collaborative work with The Wailers' keyboard player, Tyrone Downie as well as Rebop Kwaku Baah, Remi Kabaka, The Sky, Dr John & Jeanette Jacobs.
Tracks from the only known-to-survive recordings by the short-lived Mason, Capaldi, Wood & Frog line-up were also included  – as is a brand new 2015 collaboration with Maps featuring Chris Wood.
And… Chris's never-released solo LP on 180gsm vinyl. Long thought lost, the ¼" masters were discovered by chance in an outbuilding in the West of England during the late-spring of 2013.
Over half the music featured on Evening Blue had never been heard before. And, other than in three instances (where the analog reels no longer existed), all the recordings were sourced from the original 2″ and 1″ multitracks or ¼" masters and cassettes captured at 24bit/96Khz.
The whole set was re-mastered by Richard Whittaker at FX Mastering in London – the CDs at 16bit/44.1Khz and the vinyl at 24bit/48Khz.
Critically lauded around the world, Evening Blue was issued as a limited edition of 1000 copies on February 3, 2017 and curated in close collaboration with Steph Wood who administers her brother's estate.
Evening Blue has sold out
Reviews Chris Wood: Evening Blue
Mojo 5****
"Evening Blue is both a wonderful tribute and a rare chance to hear this gifted, but too often forgotten, musician in the spotlight"
Shindig! 4****
"The LP is jazzy touched with elements of Latin and reggae, a spacey beautifully performed mix of serious 70s music.   The accompanying 200+ page book is gorgeous"
Prog
"Fallen Traffic wind magician gets sumptuous box set monument … beautifully measured tribute to Wood's colossal talent"